---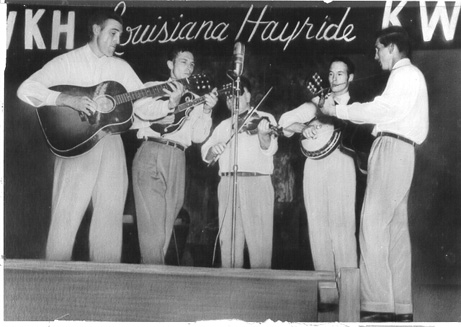 Click on photo for a larger image !!!!!
Above: Luke Thompson plays guest spot on the 1950's KWKH Louisiana Hayride radio show, Shreveport, LA,
with his band The Green Valley Cut-Ups
---
Luke Thompson and Bluegrass
THE FATHER OF BLUEGRASS IN LOUISIANA
That's UNOFFICIAL according to LUKE!
When you think about the bayou state of Louisiana, there is a musical heritage which is not found anywhere else. New Orleans is melting pot of diverse cultures which have produced a wonderful musical heritage. The birthplace of blues, jazz, Cajun, Zydeco, and dixieland to name a few. With names like Frankie Ford, Fats Domino, the Neville Brothers, and Dr. John just begins the realm of artists which found their roots in the depths of the rich Mississippi River's connection with the Gulf of Mexico.
Bluegrass though had to find a special place in which to grow roots in this saturated realm of musical expression. There is a special person who has spent their entire life growing this wonderful soulful articulated music which has people dancing and tapping their feet and this person is none other than Luke Thompson.
Luke Thompson along with his brother Cecil were born in Natalbany, LA a sawmill town about a half an hour east on Baton Rouge in 1928. They were born from a family rich in Scottish-English-Irish ancestry which migrated south from the area of North Carolina and Virginia. Luke recalls the memory of hearing his grandfather play old-time fiddle when he was a child.
During the 1920's the Great Depression was alive and well and the Thompson family was working hard to make the day and Luke remembers both him and his brother beating straws in time as his grandfather played the fiddle to make the time between the hard working hours the Thompson family was putting in to pay the bills.
The Thompson brothers both started out playing guitar and they eventually started exploring other instruments. Luke experimented with the fiddle first and then started playing the four string banjo. He remembers it being a Gibson ball bearing style banjo with springs and a good tone. He eventually traded the Gibson banjo for a Gibson A-50 mandolin. The Thompson brothers started their first combo playing old country numbers with Luke playing mandolin, Cecil playing rhythm guitar, and Bill Harris also playing rhythm guitar. Luke's brother Cecil soon switched to 5-string banjo and the early bluegrass motif began to come together.
It was at this point in time that Luke was alerted to a new record that had a banjo playing on it and had a real neat new sound. It was none other than the Father of Bluegrass Mr. Bill Monroe singing "Molly & Ten Brooks". Luke had never heard of Bill Monroe at the time even though he had been listening to the Opry on a regular basis. Luke had been listening to the likes of Hank Williams Sr. and Eddy Arnold, but this new sound really caught his eye. The fellow who had traded the mandolin to Luke for the banjo could sing like Bill Monroe and preceded to teach Luke the chord positions and style of which would become the music Luke came to love and spend his whole performing, bluegrass.
Cecil on banjo, Luke on mandolin and the bluegrass music seemed the way to go. At this point bluegrass was uncharted territory in the bayou state of Louisianna. Luke and Cecil met a fiddler named Dewey Edwards in Frost, LA and they were also introduced to the V.J. and J.C. Meyers whose uncle had married the Thompson brother's aunt. Cecil joined the Coast Guard in 1953 and as he began his tour of duty, Luke and the others started the formation stages of a band.
One of the Meyers brothers had a Silvertone mandolin and the boys decided that Luke would play mandolin and one of the Meyers brothers should play banjo. Since they needed a banjo and had an extra mandolin they asked Luke if he would talk to the fellow he had traded his Gibson banjo to and see if he would be interested in trading again. A deal was struck and one Silvertone mandolin was traded for a Gibson 4-string banjo.
The band was formed with Luke on mandolin, V.J. Edwards on guitar, Dewey Edwards on fiddle, and J.C. Meyers playing both guitar and 4-string banjo. They began playing and booking gigs in places nearby and also made some road trips also playing mostly parks and schoolhouses.
During this era in Luke's bluegrass career, the Thompson boys had mostly worked as boilermakers, steamfitters, and shipbuilders and playing that new sound in lower bayou country known as bluegrass. There is no recordings that exist of this combination which was named the Green Valley Boys which Luke had used for all of his band combinations until 1968 when he found out that Carl Sauceman had already been using the name. When Luke found out he changed the name he still uses today, the Green Valley Cutups.
During the late 1940's and early 1950's the bluegrass unit known as the Green Valley Cutups covered Bill Monroe tunes and played country ballads. It was at this time that Luke took a hiatus from the band and move to Cincinnati, Ohio where he had found a job in the railroad business.
It was there that he found a banjoist named Jesse Kidd from Oneida, Tennessee, Dave Woolum a vocalist from Dayton, Ohio and none other than Sonny Osbourne. The unit went into the recording studio which was Luke's first recording experience. Luke backed David Woolum with Jesse Kidd on a track called "Maple on the Hill." Sonny Osbourne backed the ensemble on the other side of the record which was called "Rolling Stone." Luke eventually left the Cincinnati area after being persuaded to head south to the great state of Kentucky by Nelson Young where there was more money to be made in one night gigs than working a week on the railroad scene. Jesse left also and they quit their jobs and headed to the Bluegrass State. There was a radio station called WEKY that had recently opened and Luke had landed a live daily fifteen minute segment on the station. Success seemed prosperous for the first few weeks, but times got tough and after five months of wondering whether they were going to starve or not Luke decided to return home to Louisiana. to be continued...
---
Luther "Luke" Thompson
Artist Resume
* 1997

-Exhibited work and performed atJazz Festival, New Orleans, LA
1997

-Exhibited work and performed at the Spegman Awards, Nashville, TN
* 1996 -Exhibited work and performed at Folklife Festival, Monroe, LA
1996

- Exhibited work and performed at Jazz Festival, New Orleans, LA
1996

- Another pix from the Jazz Fest (Dennis Satterlee)
1996 - Exhibited work at Spegman Bluegrass Awards, Nashville, TN
* 1995 - Exhibited work at Jazz Festival, New Orleans, LA
- Exhibited work at Natchitoches Folk Festival, Natchitoches, LA
- Exhibited work and performed at Folklife Festival, Monroe, LA
- Exhibited work at Spegman Bluegrass Awards, Nashville Tn
* 1994 -Exhibited work in Hunter Museum of Art, Chattanooga, TN
- Exhibited work at Spegman Bluegrass Awards, Nashville, TN
* -Exhibited work at Spegman Bluegrass Awards, Nashville, TN
*1992 -Granted authorization to perform Gibson Guitar Company
warranty work
1991

-Green Valley Cutups- Big Sandy, Texas
*1986

-Built mandolins for Gibson Mandolin Co., Nashville, TN
*1985 - Exhibited work and performed at Folklife Festival, Baton Rouge, LA
*1984 -Exhibited work and performed at World's Fair, New Orleans, LA
1984

-Performed at LA Folklife Festival
1975

-Green Valley Cutups at Norco, La
*1979-1983 -Built Buck White #2 model mandolin given as 1st prize to winner

of Kerrville, TX Mandolin Competition
*1969-1979 -Announcer, etc. for Bill Monroe at Bluegrass Festival in

Bean Blossom, IN
1970

-Old South Jamboree, Walker, La
*1969 -Appeared in Warner Brothers movie with James Coburn
*1968

-Originated first Bluegrass Festival in Louisiana with Bill Monroe
1968

-Helped originate Old South Jamboree, Walker, LA
1968

-Luke and the boys
1967

- Grand Ole Opry Road Show at Loranger Coliseum, LA
1963

- Grand Ole Opry Road Show
1960

-Performance in Albany, La
*1955 -Played guest spot on Louisiana Hayride-KWKH, Shreveport, LA
*** -Mandolin currently on display in breezeway of the State Capitol
building since 1984 Baton Rouge, La
* Built mandolins played by Buck White, Mark O'Conner, and others

* Have been interviewed concerning my work by various television, magazine, and newspaper reporters.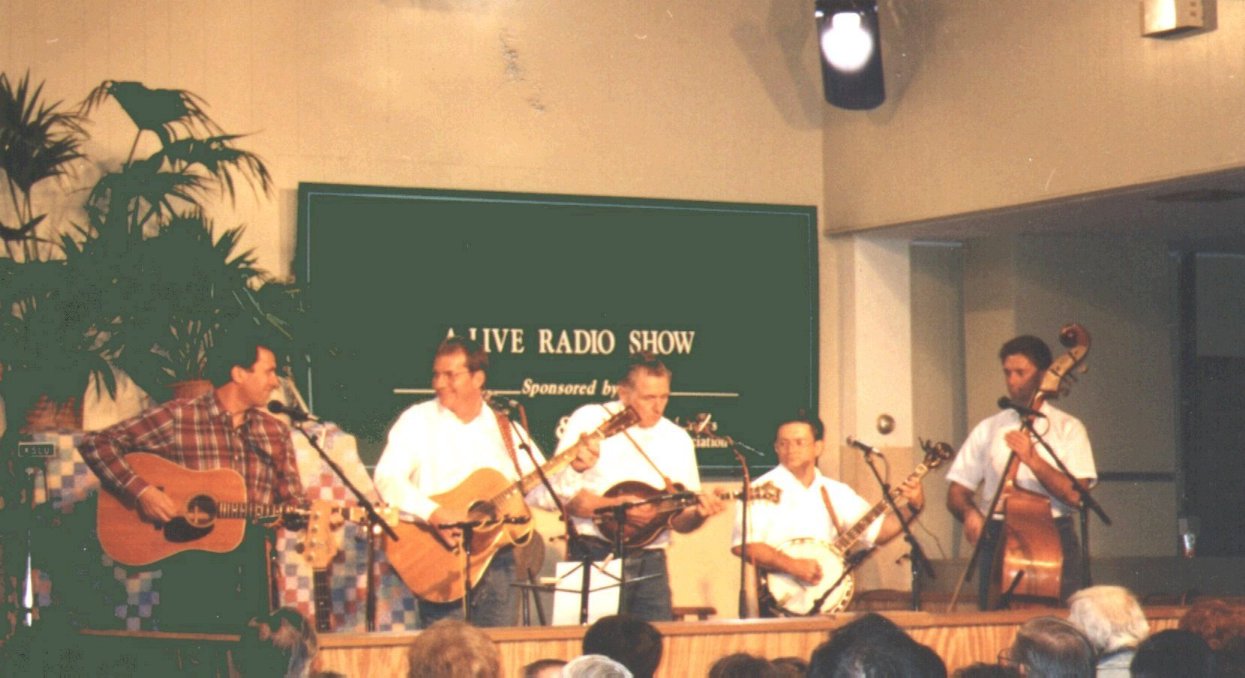 Pictured above: Pat Flory, Dennis Satterlee, Luke Thompson,
Robert Brumfield and Dean Brumfield
when they played on the CBS Eyes on America program.
Material Copyright 1998 / 2002 Luke Thompson Music Company